Bay of Islands Street View
Use the - and + on the first map to zoom in and zoom out.
Drag to position on the area you are interested in.
Drag the yellow peg man figure and blue lines will appear on streets that have a Street View.
Drop the yellow peg man figure on a blue line to get a Google Street View of that street.
The street view is shown beside the map or below the map.
Bay of Islands Central Map
Bay of Islands Driving Directions
Bay of Islands Maps
Bay of Islands Satellite View Maps
Tour Bay of Islands

Tour Bay of Islands Area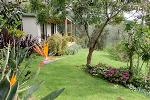 Wharepuke Subtropical Cottages
- Cottage, Holiday Home, Medium Stay, Motel.
Wharepuke Subtropical Accommodation are family run eco cottages in Kerikeri, Bay of Islands, Northland, New Zealand....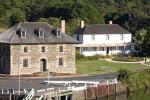 Stone Store - Heritage New Zealand
- Historic - Kerikeri.
Located next door to Kemp House in Kerikeri, the Stone Store is New Zealand's oldest stone building. Designed by...